Steps to Convert ANSI PST to Unicode PST file
PST UPGRADE helps you to convert MS Outlook ANSI PST file format to Unicode Outlook PST file having higher limit of 20 GB. Software converts all items of MS Outlook such as messages, contacts, tasks, notes, appointments, calendars and journals preserving all meta data information intact. PST conversion tool provides both features i.e. PST Upgration to Outlook 2003/2007/2010 file format and PST degradation to Outlook 2000/2002/XP file format.
Important Note – Microsoft Outlook 2003 & 2007 should be installed on the computer system on which you are performing the conversion.
Guide to Convert ANSI PST to Unicode PST File
STEP 1: Open PST UPGRADE. Go to Start menu » Programs »PST UPGRADE » PST UPGRADE. Software will display the following screen:>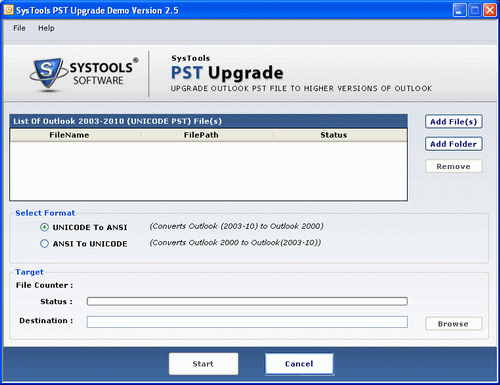 STEP 2: - Now Add File(s) or Add Folder of Outlook PST.

STEP 3: - After that Click on Browse button, locate your PST file for conversion process as shown below:

STEP 4: - After selecting the PST file, software will automatically recognizes the format of the PST file i.e. whether it is Unicode PST or ANSI PST and will show you the format of the PST file in its Description box as shown below: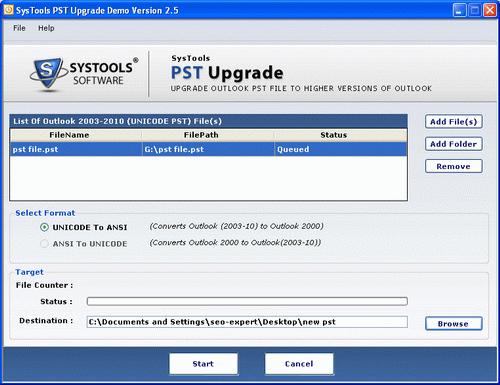 STEP 5: - Now click on Start button to start converting PST file to Unicode PST & ANSI PST file. You can create new folder for Outlook PST files.
Choose the location where you want to save the converted PST file from the following box:
STEP 6: - Click on OK button. Then software will convert the selected PST file to Unicode PST or vice versa showing its status in Description box: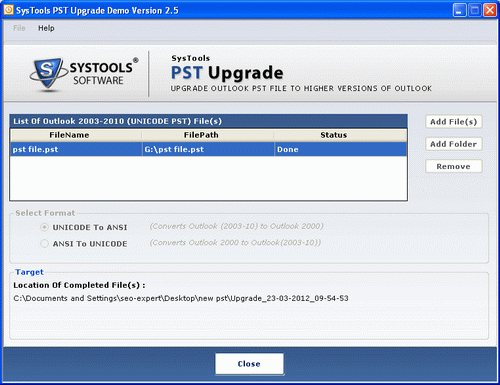 STEP 7: - After completing the conversion process of ANSI PST to Unicode PST or vice versa, then software will display a box as shown below:

Steps to view Converted PST file in Microsoft Outlook
STEP 1: - Open Microsoft Outlook. Go to Start menu » Programs » Microsoft Office » Microsoft Outlook then Microsoft Outlook start up will appear as follows: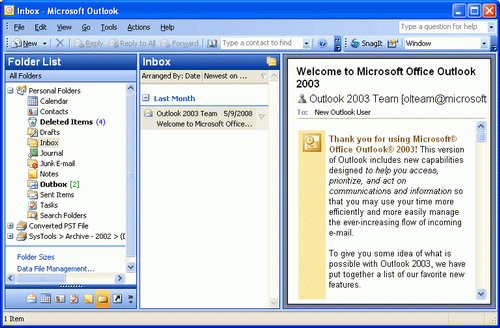 STEP 2: - To view converted PST file click on Converted PST File from the following folder structure: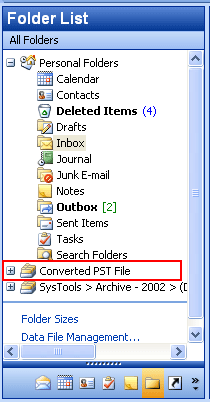 STEP 3: - Select the Converted PST File and start viewing your emails, journals, inbox, contacts, calendars etc as shown below: